Check out our free classified ads

The Billion-Light-Year Bookshelf
Science Fiction and Fantasy Books Reviewed
In Association with Amazon.com
April Picks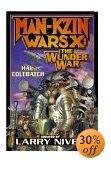 Man-Kzin Wars X: The Wunder War
Created by Larry Niven
Cover art by Stephen Hickman
Published by Baen Books
In the tenth volume of the Man-Kzin Wars series, Hal Colebatch takes a grim look at just what happened on Wunderland when the feline Kzin came a-conquering. But along with the grimness one also finds hope, in stories of a time afterward, when humans and Kzin have found an accomodation and live together, albeit uneasily.
Click here for an in-depth review of Man-Kzin Wars X: The Wunder War.

Click here to order Man Kzin Wars X: The Wunder War in hardcover.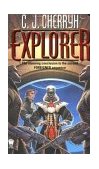 Explorer by C. J. Cherryh
Cover art by Michael Whelan
Published by Daw Books
In the latest volume of the series begun in Foreigner, the combined human-atevi mission to Reunion Station must find a way of defusing a delicate situation. Everything rests upon the shoulders of the ambassador Bren Cameron, who must unravel yet another alien language, full of assumptions that grow from hardwired differences in neuropsychology.
Click here for an in-depth review of Explorer.

Click here to order Explorer in mass-market paperback.
---
Here is the complete list of all science fiction and fantasy books reviewed on this site. They may be purchased through Amazon.com. All are directly linked for your convenience.
---
Buzz Aldrin
Aaron Allston
Kevin J. Anderson
Isaac Asimov
Margaret Atwood
John Barnes
Alfred Bester
Michael Bishop
Marion Zimmer Bradley
David Brin
Terry Brooks
Orson Scott Card
Jack Chalker
C. J. Cherryh
Ellen Datlow
Debra Doyle
Gardner Dozois
David Drake
Richard Dreyfuss
Rosemary Edghill
Eric Flint
Michael Flynn
Karen Wynn Fonstad
Robert Foster
Dave Freer
Carolyn Ives Gilman
James E Gunn
Harry Harrison
Patrick Nielsen Hayden
Robert A Heinlein
Brian Herbert
Frank Herbert
James P. Hogan
Gregory Keyes
Tom Kratman
Ursula Le Guin
Lois Lowry
R. A. MacAvoy
James D. Macdonald
Anne McCaffrey
Vonda N. McIntyre
Vera Nazarian
Larry Niven
Andre Norton
Jerry Pournelle
John Ringo
Christopher Rowley
J. K. Rowling
Kristine Kathryn Rusch
James. M. Schmitz
Sherwood Smith
S.M. Stirling
Sherri S. Tepper
J.R.R. Tolkien
Christopher Tolkien
Dave Trowbridge
Harry Turtledove
John Varley
Katie Waitman
David Weber
Walter Jon Williams
Jack Williamson
Robert Charles Wilson
Terri Windling
Jane Yolen
Is there something else that you think ought to be included? Or are you an author or a publisher who wants to know where to send a review copy of your new novel? E-mail me at leighkimmel@yahoo.com.
Want to look for other titles of interest?
Your purchases help support this science fiction review site.
"new" icon courtesy of The Web Developer's Internet Library
Last updated April 4, 2004